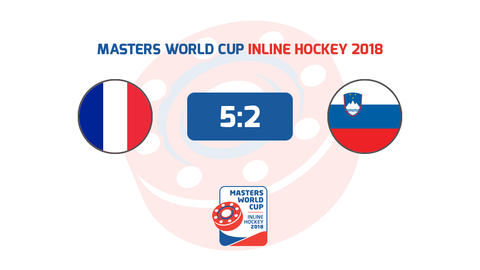 Slovenes score their first at the Championship but do not beat French
Přerov – The French recorded their second win in Přerov. We saw a lot of though hits in the match between Slovenia and France, but a really good first half decided the win for France. Slovenia battled hard in the second half and scored their first goal at the tournament, but could not tie the game.
France played very well from the very beginning. They took a 3-0 lead after 7 minutes into the game with Xavier Raby scoring from the slot, Dylan Mounier connecting another one after a quick counterattack, and Xavier Raby adding his second after a wonderful shot.
Slovenia also created some promising chances. One of their players hit the bar on the power play, but it was again the French who scored, as Frederic Hostein's rebound went straight to the net. In the 16th minute, Fajdiga took a five-minute penalty for a dangerous hit and a few seconds later another Slovenian player took a penalty and France struck again. Dylan Mounier used the free space for his favour and made it 5-0.
The Slovenes managed to score their first goal at the championship in the second half. After a great pass from Omana, Boštjan Breznik did not hesitate to shoot it in over the goalkeeper. Slovenia also scored a goal on the power play, as France was under high pressure and the puck ended up in the net. Goran Petronijevič adjusted the final score to 5-2.
Francie – Slovinsko 5:2 (5:0, 0:2)
Goals and assists: 4. Raby (Cudicio), 6. Mounier (Thomas), 7. Raby, 14. Hostein (Archain), 18. Mounier (Richard) – 23. B. Breznik (Oman), 28. G. Petronijevič (J. Breznik). Referees: Lepich (GER), Jílek (CZE). Penalties: 5:4, Fajdiga (SLO) 5 min. + MISC. PPG: 1:1. SHG: 0:0.