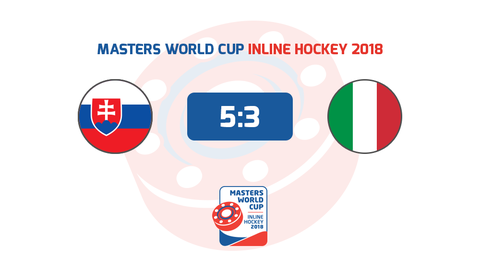 Slovaks earn great victory over Italians
Přerov – Slovakia managed to show a better effort than in their game on Monday against Switzerland and defeated Italy. There were seven goals scored in the first half. The Slovaks extended their lead in the second half and won 5-3.
Slovakia conceded the first goal of the match, the same as on Monday against Switzerland. David Stricker sneaked around the defender right in front of the goalie and in the first minute of the game scored a wonderful goal. The Slovaks responded quickly. Jozef Vrábel succeeded with his slap shot. In the seventh minute, Peter Šulek took an advantage of an Italian defensive mistake to take the lead after a brilliant deke.
Slovakia added another one in the 15th minute after a rebound by Radovan Dolník. The Italians did not give up. Fabia Berta scored after some action on the left side, but Martin Funta responded quickly to put in another one for Slovakia. Right before the end of the first half Italy was about to go into a power play, but David Stricker scored with the goalie pulled for an extra player.
Peter Udvardy started the second half with an important goal and Slovakia started to defend their win. The Slovaks also created some more chances but only hit the post. The score didn´t change until the end of the match, Slovakia defeated Italy 5-3.
Slovakia – Italy 5:3 (4:3, 1:0)
Goals and assists: 3. Vrábel (Tománek), 7. Šulek, 15. Dolník (Šulek), 19. Funta (Tománek), 27. Udvardy (Funta) – 1. Stricker, 19. Berto, 20. Stricker (Monti Cavaler). Referees: Šiška (CZE), Lattemann (GER). Penalties: 3:5. PPG: 0:0. SHG: 0:0.