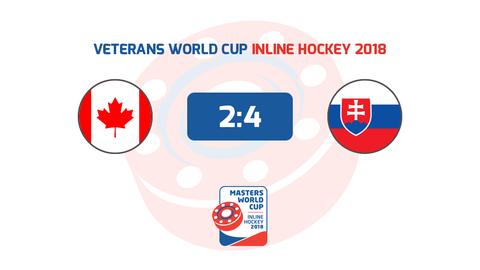 Slovaks remain unbeaten in the Veterans' category, edge Canada 4-2
Both Slovakia and Canada started the Veterans' tournament successfully, but after their matchup, only the Slovaks remain unbeaten. Team Slovakia had a 4-0 lead after the first half of the game, and even though the Canucks responded, their two goals just were not enough.
Both teams proved that they are the favourites in Group A, as the game started in very high pace with chances at both ends of the field. Five minutes into the game, Petera Kotlárika gave the Slovaks the lead after a bad line change by the opponent. Just two minutes later, Roman Chatrnúch made it 2-0. The Slovaks did not settle and still in the first half, Bystrík Ščěpko and Peter Jurenka put their names on the scoresheet as well.
The Slovaks did settle in the second half, though. Team Canada improved their game and 26 seconds into the second half, Bill Adams put the Canucks on the board with a power-play goal. A few minutes later, Ted Lewko beat Kohút as well. Despite some drama in the final minutes and Team Canada pulling their goalie, Slovakia held on to their two-goal lead until the very end.
Canada – Slovakia 2:4
Goals and assists: 21. Adams (Peacock), 27. Lewko (Leibel) – 5. Kotlárik (Horváth), 7. Chatrnúch (Foltýn), 12. Ščepko (Jelínek), 19. Jurenka (Trenčan). Referees: Ptáček, Favero. Penalties: 4:4. PPG: 1:1. SHG: 0:0. Halftime: 0:4.