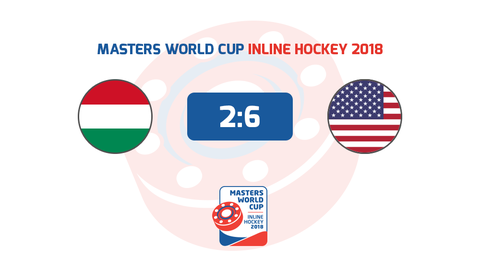 Americans score 2 shorthanded goals and defeat Hungary
Přerov - The US team reached their first win in the Masters category. They managed to score five goals in the first half, two of them shorthanded. Despite the better performance of the Hungarians in the second half, the USA won 6-2.
The match started with a power play for Hungary. Bufalino saved Lencses's slap shot and his teammates helped him to relieve the pressure. Tomas Lencses continued to play very well and just a few seconds later was awarded with a goal between the goalie pads, after a wonderful pass from Halasz. The US team tied the game just several seconds later. Shawn McGrath scored a perfectly accurate goal, and Palla had no chance.
In the fifth minute, the Americans were shorthanded again. Despite that fact, they took the lead. Edward Lymbaga succeeded with his backhand shot. Michael Francis connected another one after a quick counterattack and a brilliant deke by Lymbaga changed the score to 4-1. In the 13th minute, Derek Kern scored another goal and the first half ended with a four-goal lead for the USA.
In the second half, the US team got a chance to play a long power play. It was successful as Kern extended their lead. The last goal of the game was scored by Lencses, who adjusted the final result to 6-2.
Hungary – USA 2:6 (1:5, 1:1)
Goals and Assists : 2. Lencses (Halasz), 32. Lencses (Kovacs) – 2. McGrath, 5. Lymbaga (Morris), 5. Francis (Hawkins), 8. Lymbaga (Morris), 13. Kern (Mears), 30. Kern (Morris). Referees : Lepich (GER), Moine (FRA). Penalties: 4:3. PPG: 1:1. SHG: 1:2.