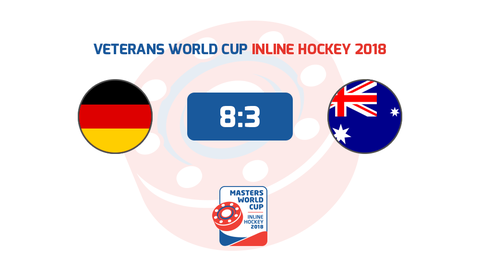 In a game of 3 hat-tricks, Germany outscores Australia
On Tuesday morning, the German veterans faced Team Australia. Powered by two quick goals in the first five minutes of the game, the Germans never lost their lead and won comfortably 8-3. Sofian Udo and Michael Hohenberger each scored hat-tricks, as did Mark Schvettpelz from Australia, but his goals were not enough to power the Aussies over the German veterans.
The Germans started off on a high note, enjoying puck possession and not allowing the Aussies to create any scoring chances. The second chance of Team Germany resulted in the first goal of the game - Sofian Uda capitalised on a nice pass from Wiltse and his shot beat the Australian goaltender. Just three minutes later, Michael Hohenberger made it a 2-0 game. Still in the first half of the game, Udo scored again.
In the second half, Team Germany did not stop scoring goals, but the Aussies marked a few tallies as well. Hohenberger scored twice more to complete his hat-trick, as did Udo, who added one more tally to his two from the first half. The other two German goals were scored by Thirsten Hoffmann and Andre Harties.
All three Australian goals were scored by Mark Schvettpelz, who joined Udo and Hohenberger in the presumptive hat-trick club. However, Schvettpelz's outburst was not enough, and the German veterans were able to celebrate their first win in the tournament.
Germany – Australia 8:3
Goals and assists: 2. Udo (Wits), 5. Hohenberger (Kahlfub), 17. Udo (Harties), 23. Hohenberger (Krill), 25. Udo (Wits,Harties), 28. Hohenberger (Udo, Kahlfub), 33. Hoffman, 39. Harties (Krill, Udo) – 22. Schvettpelz (Perreira), 30. Schvettpelz (Forbes), 36. Schvettpelz (Staneke). Referee: Druga, Riolo. Penalties: 1:2. PPG: 1:0. SHG: 1:0.