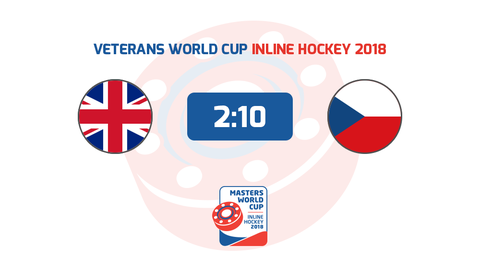 Czechs finish 1st day of championship with 2nd win, this time against British
The Czech Republic, as one of the main favourites of the entire Veterans championship, has won its second game in the tournament, this time defeating Great Britain by a score of 10-2. David Kudelka and Petr Hrachovin changed in the net of the national team and Dušan Vápeník thanks to three goals became the main factor of Czech's win.
Compared to the first game, the Czechs had a perfect start as their first goal came after 60 seconds of the game, thanks to Martin Duchek. After another minute, the Czechs took two-goal lead when Tomas Langr beat Holding. The third goal came in the 8th minute as Dušan Vápeník manage to escape at the left wing and his shot made the Czech fans happy again.
The Brits managed to respond one minute later as Jason Coles reduced the score to 3-1 with a shot in front of the net. There were four more goals in the first 20 minutes. Tomas Kazlepka, Vápeník, Roman Kala on the Czech side and Jason Fox from Team GB brought the score to 6-2 for the Czech Republic.
The Czechs did not allow any more goals in the second half. At the other end of the rink, they managed to reach 10 goals for the second time today. In the 30th minute, Jindřich Vacek scored and then one minute later Roman Kala added another goal. Martin Duchek also raised the score after a quick attack and Vápeník finished the scoring at 10-2, completing his hat-trick.
Great Britain – Czech Republic 2:10
Goals and assist: 9. Coles (Mundell), 12. Fox (Knowles) – 1. Duchek (Kala), 2. Langr (Zadina), 8. Vápeník, 11. Kazlepka (Vápeník), 12. Vápeník (Vacek, Ulrich), 16. Kala (Duchek), 30. Vacek (Kazlepka), 31. Kala (Kudělka), 34. Duchek (Kala), 37. Vápeník (Vacek). Referees: Riolo, Scheibner. Penalties: 2:1, Power-play goals: 0:1. Shorthanded: 0:0. Half-time: 6:2.
Great Britain: Holding (21. Coubrough) – Mcbean, Thompson, Coles, DIckman, Anthony, James, Knowles, Thorbly, Phillips, Fox, O'Connor, Marling.