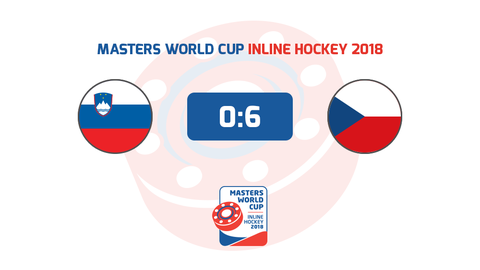 Vozdecky's hat-trick, Pavlíček's shutout help hosts win over Slovenia
Přerov – The Czech masters started their home championship with an easy win against Slovenia. Forward Martin Vozdecký notched a hat-trick and goaltender Pavlíček kept a clean sheet for an easy 6-0 win.
The first big chance of the game came in the 6th minute when Feledík's shot from the right side of the attacking zone hit the post. Two minutes later, the Czechs celebrated their first goal when Martin Vozdecký found the net with a shot over the goalie's shoulder after a quick set-up by Würtherle. The Czechs continued to play active and Vozdecký added his second of the game, firing a shot directly under the crossbar.
Fifty seconds later, Vích went to the left side and found Lubomír Korhoň, who scored with a wrist shot near the far post. The Czechs dominated the first half, but the Slovenes didn't give up another goal.
In the second half, the hosts doubled their lead. First, the Czechs got a power play and Marek Vorel scored his team's fourth goal from the left circle. In the 39th minute, Vozdecký found the net again with a quick shot to complete his hat-trick. The game ended with a beautiful move and shot by Lubomír Vích, who made the final score 6-0.
Slovenia – Czech Republic 0:6 (0:3, 0:3)
Goals and passes: 8. Vozdecký (Würtherle), 15. Vozdecký, 15. Korhoň (Vích), 32. Vorel, 39. Vozdecký (Würtherle), 40. Vích (Vorel). Referees: Coutant (FRA), Lepich (GER). Penalties: 5:2. PPG: 0:1. SHG: 0:0.
Slovenia: Slak – Rusanov, Oman, J. Breznik, Pajnič, Troha, Mubi, Zupančič, Becl – Starič, Simšič, Fajdiga, Grum, B. Breznik, G. Petronijevič.
Czech: Pavlíček – Surý, Vích, Würtherle, Kubiš, Tvrzník, Feledík – Balász, Korhoň, Bláha, Plášek, Schubert, Vozdecký, Vorel.