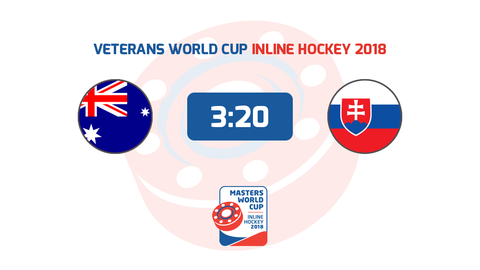 Slovaks score 20 goals vs Australia to reach 2nd tournament win
Slovakia's inline hockey veterans' team has had a successful first day in the tournament. After their 7-3 win vs. Germany they defeated Australia in a conclusive 20-3 win. The Slovaks scored most of their goals in the first half and were able to save some energy in the rest of the game.
The Slovaks played their big style game from the very beginning. They took the 2-0 lead after 5 minutes into the game with Roman Trenčan and Petr Jurenka making their shots past Gina Carrol, an Australian goaltender. Slovakia kept the hot pace and did not give Australians any chances to get back into the game. Soon after, Roman Trenčan, Roman Charnúch, and Bystrík Ščepka, who scored twice, extended the lead.
All those goals were scored in 11 minutes time making it 6-0. Slovakia's team added five more goals before half-time. Marián Horváth scored the 6th goal of the game into an empty net after a quick attack; another goal was scored by Peter Foltýn, followed by Pavel Charvát's rebound goal. Peter Foltýn then took advantage of Australia's defensive mistake just five seconds left in the first half and extended the lead once more.
During the second half, the Slovaks did not level the number of goals scored in the preceding half; they scored only nine times making it 20 in all. Marián Štábel was the first to score a goal in the second half. Then it came the time for Australia to break through with Anthony Santalucia being the scorer. In a similar way, Mark Schvettpelz was later able to respond to Peter Kotlárik's goal.
With some time of the game left, also Peter Jurenka, Roman Chatrnúch, Marián Štábel, Roman Pejchal, Marián Horváth, and Peter Kolárik (twice) scored more goals, while Anthony Santalucia added another goal for team Australia.
Australia – Slovakia 3-20
Goals and Assists: 23. Santalucia (Staneke), 24. Schvettpelz, 39. Santalucia (Staneke) – 3. Trenčan (Ščepko), 5. Jurenka, 7. Trenčan (Jelínek), 9. Chatrnúch (Pejchal), 10. Ščepko (Jelínek), 11. Ščepko (Štábel), 12. Horváth, 13. Foltýn, 14. Štábel, 20. Charvát (Jurenka), 20. Foltýn (Charvát), 22. Štábel (Ščepko), 25. Jurenka (Horváth), 30. Chatrnúch, 33. Štábel (Ščepko), 36. Pejchal (Trenčan), 39. Horváth (Jurenka), 40. Kotlárik (Foltýn), 40. Kotlárik (Pejchal) Referees: Favero, Stejbner. Penalties: 0:1. PPG: 0:0. SHG: 0:0. Half-time: 11:0.
Australia: Carrol – Warner, Dawson, Santalucia, Woodman, Voss, Bernau, Staneke, Schvettpelz, Szuter, Adams, Forbes, Modra, Perreira.
Slovakia: