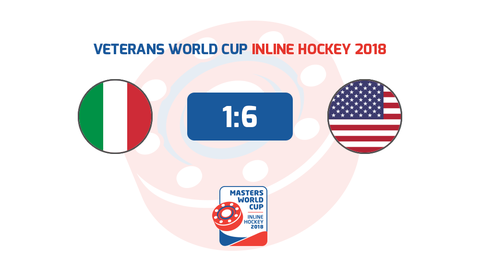 Michael Lalonde hat-trick helps USA to easy win over Italy
The game between Italy and the USA was played at a really quick tempo, and gave the fans could a beautiful, tough inline hockey game. From beginning to the end, the Americans battled hard for the victory and Michael Lalonde's hat-trick helped a lot.
Despite the game starting at a high tempo from both sides, the USA was able to overpower Italy and create some chances, thanks to their better movement. Raulie Licon scored the first goal in the 3rd minute of play after an accurate shot right next to the post. The Americans did not stop, and by the 10th minute it was already 3-0. First, Michael Lalonde scored from the slot and Matthew Koleski connected another one after a long pass behind the defenders.
The US team continued to show a great effort and didn't let Italy even attack. It all ended with clear denouement when, in the 18th minute, Lalonde scored his second goal.
We had to wait for a long time until the first goal was scored in the second period. Italy tried hard at least to score an honourable goal, but Mike Tozzi, who replaced Larry Botsford, was unstoppable. Even though Italy played very well, Lalonde finished his hat-trick. The Italians finally scored 10 minutes before the end thanks to Aleksej Zolovkins but it was Derek Thebe for the USA who put in the last one of this match.
Italy – USA 1:6
Goals and assistance: 30. Zolovkins – 3. Licon (Zarem), 7. Lalonde (Thebe), 10. Koleski (Lalonde), 18. Lalonde (Rogers), 30. Lalonde, 38. Thebe. Referees: Moine, Ptáček. Penalties: 1:0. Power Play Goals: 0:0. Shorthanded: 0:0.
Italy: Favro (21. Casale) – Dotto, Benvegnu', Vaccarino, Brambilla, Zolovkins, Berardo, Endrizzi, Corso, Santoni, Bramante, Cocco, Valduga, Bortoli, Ponterosso.
USA: Botsford (21. Tozzi) – Florio, Wiljanen, Licon, Zarem, Rogers, Fetz, Vicklerman, Thebe, Koleski, Lalonde.