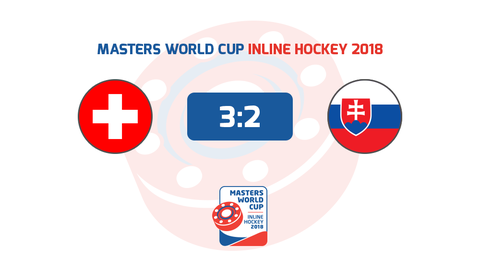 Swiss defeat Slovakia at the Masters World Championship
Přerov – Slovakia's inline hockey players needed just one goal to equalize the score. They reduced their deficit to 3-2, but it wasn't enough.
The Swiss open the scoring in the 3rd minute as Rolf Schepref scored with the help of the post and get the ball behind the Slovak goalkeeper. At the other end of the rink the post was also involved, but this time ball bounced back into the play instead of the net. In the 10th minute, Massimo Jamucsi beat Fatula for the second time and after the first half, Switzerland led 2-0.
The Slovaks managed to reduce the deficit as after Šulka's pass, Milan Novosedlík sent the puck into the Swiss net. However, the Swiss managed to take a two-goal lead again as André Thalmann scored the third goal. The Slovaks then had a chance to cut the lead in half again on the power play, which would normally double, but players in white jerseys used the advantage after Jozef Vrábel was successful near the left post with his rebound.
Švýcarsko – Slovensko 3:2 (2:0, 1:2)
Goals and assistance: 3. Schrepfer (Thalmann), 10. Jamucsi, 26. Thalmann – 23. Novosedlík (Šulek), 28. Vrábel (Malovec). Referees: Jílek (CZE), Lattemann (GER). Penalties: 4:1. Power-play goals: 0:1. Shorthanded: 0:0.
Switzerland: Müller – Diener, Neff, Ferrat, Thalmann, Kündig – Jamucsi, Imhof, Goetschi, Bünter, Schrepfer, Schuster.
Slovakia: Fatul – Tománek, Vrábel, Novosedlík, Funta, Škrovánek – Karšay, Hosťovecký, Dolník, Šturc, Malovec, Udvardy, Vacek, Szoke, Šulek.