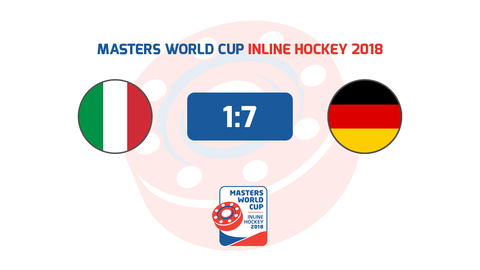 German masters dominate 2nd half vs Italy
Přerov – Germany's masters started their round robin with an easy win against Team Italy. The Azzuri scored first, the Germans came back in the first half and added another five goals to secure a 7-1 win.
The Italians had a quick start to the game. Mario Monti Cavaler opened the scoring with a wrist shot under the goalie. Todesco could have scored another one four minutes later, but Kohl made a huge save with his glove. Germany tied the game in the 9th minute with rebound of Matthias Mehner.
The Germans started to play more patient and created some chances. Schmitz got a couple of good opportunities but didn't score. Just before the end of the first half, Germany broke the tie. Florian Groß found shooting position and scored between the glove and right post.
In the 23rd minute, Germany added a third goal. Christian Mader broke away and made a beautiful backhand move. Five minutes later, Italy first survived a German power play, but then gave up a fourth goal. Schmitz's soft pass found Matthias Mehner and he scored under the bar. Germany then dominated the game and Markus Köppl made it 5-1. The Sixth goal was scored by Patrick Schmitz, who came out with a succesful backhand shot, and Pascal Poerschke closed the scoring with his team's seventh goal.
Italy – Germany 1:7 (1:2, 0:5)
Goals and assists: 2. Monti Cavaler (Sagui) – 9. Mehner (Schmitz), 20. Groß (Albrecht), 23. Mader (Köppl), 28. Mehner (Poerschke), 32. Köppl (Sendt), 35. Schmitz (Weichelt), 39. Poerschke (Schmitz). Referees: Šiška (CZE), Druga (SVK). Penalties: 1:0. PPG: 0:0. SHG: 0:0.
Italy: Guichardaz – Dotto, Giacomini, Melotto, Tulli, Ninzatti, Monti Cavaler, Zolovkins, Berto, Visintainer, Bruttomesso – Todesco, Pinelli, Benvegnu, Rossi, Sagui.
Germany: Kohl – Schmitz, Poerschke, Weichelt, Mader, Köppl, Mehner, Groß, Albrecht, Sendt, Nies, Patschull.