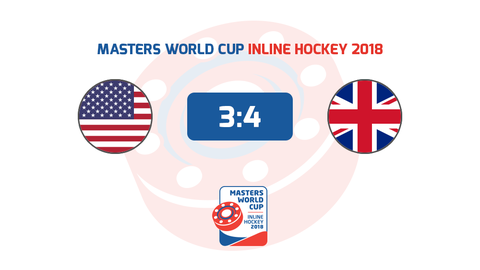 Brits save narrow win despite American pressure
Přerov – Seven goals were scored in the USA-Canada game. The British scored in the first half only and then defended their 2-goal lead. Team USA's players were closing on Great Britain, but, despite their efforts in the closing minutes, did not manage to tie the game and Great Britain defended a 4-3 win.
The first goal of the game was scored by GB with Ian Parsons scoring after Maly's pass. However, the game was tied in a moment. Shawn McGarth took advantage of Kern's pass and his shot went past Wood. The USA then came from behind when Derek Kern turned from an effective passer to an effective goal scorer.
GB tied the game in the 14th minute when Bryan Thirsk scored a goal off a pass from Beattie. Britain then took the lead back with Marcel Maly scoring in the 16th minute and added one more goal before the intermission – Oscar Wightman stuck the puck from the left side into the top corner over the goaltender lying on the rink.
USA's Watanabe was called for a 5-minute penalty at the end of the first half; however, GB did not score a goal. Moreover, they made a passing mistake on defence which was quickly punished by Michael Francis making it a drama in the closing minutes. USA pulled the goalie at the end of the play and the British had to make do without Parsons who was sent to the penalty box. Yet Great Britain saved the narrow victory.
USA – Great Britain 3-4 (2-4, 1-0)
Goals and Assists: 11. McGrath (Kern), 12. Kern (Lymbaga), 32. Francis – 10. Henir (Maly), 14. Thirsk (Beattie), 16. Maly (Parsons), 19. Wightman (Newberry). Referees: Coutant (FRA), Jílek (CZE). Penalties: 4:4, Watanabe (USA) 5 min + MISC. PPG: 0:1. SHG: 0:0.
USA: Penneoke (20. Bufalino) – Morris, Garvey, Hawkins, Kern, Mears, Chorndmud – Watanabe, Evans, Francis, Enright, Lymbaga, McGrath.
Great Britain: Wood – Thirsk, Parkin, Newberry, Parsons, Findlow, Coulstrock, Henir, Wightman, Gibbons, Munro – Morris, Beattie, Maly.