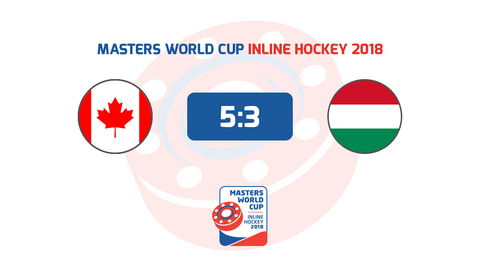 Canadians earn tough victory over Hungary
Přerov – A tough game for Team Canada at the inline hockey Masters World Cup in Přerov. They took the lead to go down later in the game and then had to fight hard to win until the final buzzer when Corbeil made the game safe with just one minute left. The Hungarians showed their fighting spirit, which gave the Canadians a hard time.
Canada took the lead four minutes into the game. Darrin Gentes's first shot headed towards the back boards and then it returned back to Gentes, who hit Palla's pad pressed against the near post. Gentes was happy with his third try when he scored the first goal of the game. Canada's fierce efforts were stopped when the Hungarian net moved. Hungary then came from behind with Szabolcs Sandor firing a shot past Servos in the 12th minute. Gyorgy Kovacs capitalized on a quick counter-attack one minute later.
Despite conceding two quick goals, Canada did not give up. Jamie Visser tied the game in the 15th minute on a breakaway. Team Canada took the lead back before the first half of the game was played. Chad Blundy gave his team a 3-2 lead while Danny Larocque extended the lead to 4-2 with tens of seconds left in the first half.
The Hungarians made it dramatic with a 22nd minute a goal. Tomas Lencses went on a courageous solo run on the right side of the rink, went to the rink axis and shot a cross-shot, the puck grazed Servos's gear and went along the left post into the net. Hungary pulled the goalie at the end of the play, which helped Canada to make the game safe with Frederick Corbeil scoring an empty-net goal.
Canada – Hungary 5-3 (4-2, 1-1)
Goals and assists: 4. Gentes (Bennett), 15. Visser, 18. Blundy (Visser), 20. Larocque (Piercey), 40. Corbeil – 12. Sandor (Molnar), 13. Kovacs (C. Lang), 22. Lencses. Referee: Lattemann, Lepich (oba GER). Penalties: 2:1. No goal. SHG: 0:0.
Canada: Servos – Leggat, Howald, Larocque, Bennett, Melton, Hunt, Jones, Gentes, Blundy, Corbeil, Visser, Piercey, Vardon, Csontala.
Hungary: Palla – Z. Lang, Hidvegi, C. Lang, Lencses – Sandor, Halasz, Wehli, Seler, Kovacs, Molnar.