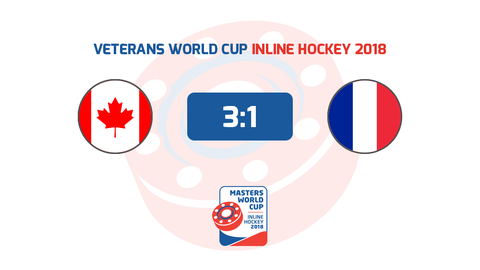 Canada's veterans narrowly defeat France
The veterans' tournament action continued on Monday afternoon with a game between Canada and France. The defensive and tactical battle resulted in a 3-1 victory for the Canadians.
The French goalie Rodolphe Voyneau made some important saves early on, but in the sixth minute of the game, Bill Adams finally made it a one-goal lead for Team Canada. Still in the first quarter of the game, the French veterans converted their only scoring chance as Frederic Guiheux beat Brad Forbes. Only 22 seconds later, however, Team Canada regained a lead after a goal by Brent Henry.
In the second half of the game, Rick Krupa increased Canada's lead to 3-1 and the team in red and white jerseys controlled the pace of the match until the very end. Brad Forbes was pulled out in the last quarter and backup Mac Paquin took over the Canadian net for the last few minutes of the game.
Paquin nor Voyneau did not concede any more goals, therefore Team Canada held on to their two-goal lead and won 3-1.
Canada – France 3:1
Goals and assists: 6. Adams (Lewko), 10. Henry (Zona), 25. Krupa (Vilio) – 10. Guiheux. Referees: Ptáček, Rido. Penalties: 2:6. PPG: 0:0. SHG: 0:0. Halftime: 2:1.
Canada: Forbes (36. Paquin) – Kennedy, Wandler, Sarchet, Leibel, Henry, Bryan, Lewko, Peacook, Vilio, Krupa, Adams, Zona, Drayson, Smith.
France: Voyneau – Collet, Spinetti, Martin, Garcia, Reigner, Guiheux, Brocherie, Aimonetto, Vincent, Magnien, Legallic.