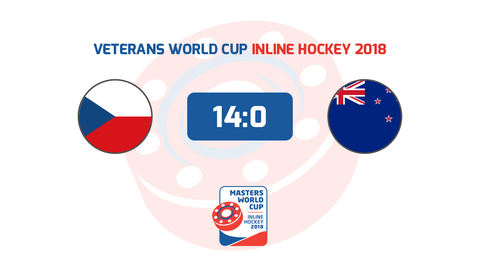 Czech veterans destroy Kiwis 14-0
The hosts of the tournament started their round-robin action with a decisive 14-0 win over New Zealand. The Czech veterans were powered by their effective power play, in which they struck five times.
Even though the Czech team started on the offence, the Kiwis kept it a scoreless game for almost eight minutes, when Roman Kala opened the scoring. In the second quarter, Martin Duchek, Petr Polívka and Tomáš Langr scored in a span of three minutes, followed by goals from Jiří Suhrada and Ivo Jindrák. After 20 minutes of play, the score was 6-0 for the Czech Republic.
Hrachovina did not have much work in the second half, either. The Czech veterans kept creating chances and scoring more goals. In the third quarter, Tomáš Langr and Jindřich Vacek scored on the power play after Team New Zealand took a few penalties.
The Czech veterans were not satisfied even with an 8-0 lead and scored six more times before the final buzzer. Two markers from Tomáš Zadina and additional goals from Martin Mecera, Tomáš Kazlepka, Roman Kala and Tomáš Langr made it a 14-0 final, securing easy two points for the hosts.
Czech Republic – New Zealand 14:0
Goals and assists: 8. Kala (Jindrák), 13. Duchek (Vacek), 14. Polívka (Kala), 15. Langr, 17. Suhrada (Langr), 20. Jindrák (Kala), 22. Langr (Mecera), 23. Vacek, 27. Mecera (Vápeník), 28. Zadina (Mecera), 30. Kazlepka (Mecera), 31. Kala, 33. Zadina (Würtherle), 37. Langr (Suhrada). Referee: Scheibner. Penalties: 0:5. PPG: 5:0. SHG: 0:0. Halftime: 6:0.
Czech Republic: Hrachovina – Polívka, Langr, Mecera (C), Vacek, Kala, Würtherle (A), Vápeník, Kazlepka, Suhrada (A), Jindrák, Ulrich, Zadina, Duchek
New Zealand: Bruce – Ormsby, Flood, Smith-Pilling, Toa, Greene, Marjoribanks, Duerre, Wichman, Velvin, Retter, Wood, Jackson