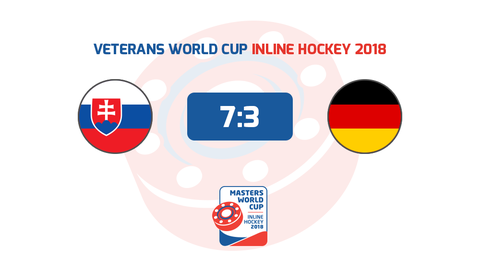 Slovaks reach first win after comeback against Germany
Nový Jičín – The Inline Hockey World Championship veteran's category started with a game between Slovakia and Germany. The Slovaks proved to be the winners, although they had troubles in the beginning. Slovakia found a way back and scored goals to earn the comeback win.
The Slovaks opened the scoring after three minutes with a perfect shot from Marián Štebel. Germany answered quickly, as Michael Hogenberg dominated to score a natural hat-trick in three minutes to make it 3-1 for the Germans.
The Slovak team wanted to find way back and they did. Just before the end of the first half, they managed to tie the game. Stanislav Jelínek scored the second Slovak goal and Marián Horváth tied the game at three shortly after that.
At the beginning of the second half, Slovakia finished the comeback. Jelínek added his second goal of the game and one minute after that, Peter Foltýn scored with a quick wrist shot to make it 5-3. The Germans still thought about tying the game, but the Slovaks came out with two more strikes. First, Roman Chatrnúch scored his team's sixth goal on the power play and Marián Horváth finished the scoring two minutes before the end with his second goal to make it 7-3.