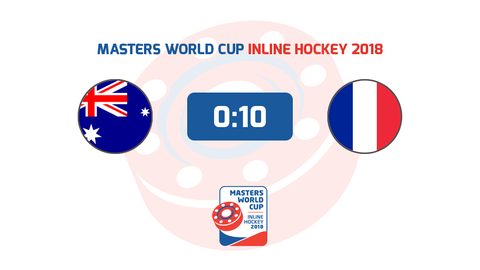 French score 10 goals for easy win vs Australia in opening game
Přerov – The French team came out with a huge offensive performance in the opening game of the World Championship in the Masters' category. They scored 10 goals, while the French goaltender posted a shutout for an easy win.
France entered the game with a quick start. After 18 seconds, Xavier Raby found a way to the front of the net and scored between Ells's pads. At the other end, Rousseau deflected the puck, Adams tried to get the rebound but hit the goalie instead of the puck. In the sixth minute, the French came with their second strike on Adrien Defrance's perfect shot. It seemed that Australia had found an answer soon after on the power play, but the referee waved off the goal because of high-sticking.
The second quarter began n with a two-man advantage for the French, who scored for the third time. William Richard found room inside the near post after a beautiful set-up by Archain. Before halftime, France added a fourth goal. Hostein passed to Defrance, who made it 4-0. The last chance to score in the first half went to Cudicio, but his deflection of Clisson's shot missed the net.
The fifth goal came in the 22nd minute, when Julien Clisson scored just after the end of a French power play. Five minutes later, Orlando Cudicio gained the neutral-zone red line, skated in on a breakaway and finished with a beautiful deke to the open net. France continued to dominate and Edouard Clisson scored their seventh goal and Julien Clisson came with another soon after. Xavier Raby brought the ninth goal to France and Guillaume Blanc rounded out the scoring, as the French showed quality and reached well-deserved win.
Australia – France 0:10 (0:4, 0:6)
Goals and passes: 1. Raby (Mounier), 6. Thomas (J. Clisson), 14. Richard (Archain), 15. Defrance (Hostein), 22. J. Clisson (E. Clisson), 27. Cudicio, 31. E. Clisson (J. Clisson), 32. J. Clisson (Mounier), 34. Raby (Mounier), 37. Blanc (Richard). Referees: Šiška (CZE), Druga (SVK). Penalties: 4:1. PPG: 0:2. SHG: 0:0.
Australia: Ells – Adams, Santalucia – Smith, Seabrook, Taylor, Jeffries, Baux, Staneke, Marsh, Schvetipelz, Szuster.
France: Rousseau (21. Martin) – Thomas, Richard, Cudicio, Blanc, Mounier – Defrance, E. Clisson, J. Clisson, Archain, Raby, Hostein.