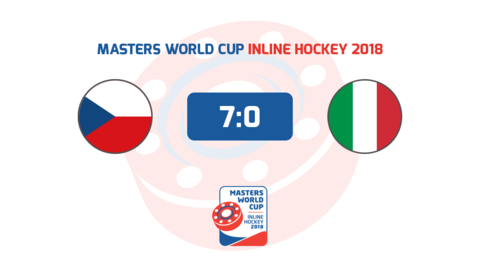 Easy way to semifinals: Czechs beat Italy
Přerov - A simple quarter-final in the Prešov was seen at the Masters World Championship. Against Italy, the Czechs did not have to perform 100 percent, but nevertheless they moved without a problem into the final four. The Czechs just needed to send seven pucks into the Italian net. In the next round, France is waiting.
The first goal came in the seventh minute of the game, when Martin Tvrznik tried his luck and fired a bullet that went straight into the net. In the 10th minute, Lubomir Vich left the puck at the top of the circle for Mark Vorel, whose shot went straight into the upper corner. One minute later, Pavel Hanák score his first goal in this championship and the Czechs led 3-0.
The Czechs added one more goal before the halftime as Korhoň passed the puck to Mark Vorel, whose shot went off the crossbar and into the net. In the second half, the Czechs and Italians both changed goalkeepers. It was just the Czech team that scored in the next quarter.
Hanák's pass in 25th minutes went to Pavel Würtherle, who added the fifth goal for Czech colours and then the Italians scored the sixth goal into their own net, with the referee awarding it to Martin Vozdecký. The Czechs added two more goals and beat Italy easily 7-0. In the semi-finals they will play against France.
Czech Republic – Italy 7:0 (4:0, 3:0)
Goals and assists: 7. Tvrzník, 10. Vorel (Vích), 11. Hanák, 15. Vorel (Korhoň), 25. Würtherle (Hanák), 32. Vozdecký, 38. Schubert (Vích). Referees: Lattemann, Scheibner (oba GER). Penalties: 1:0. Without usage. Shorthanded: 0:0.